FoodSaver FM3920 With Quick Marinade Mode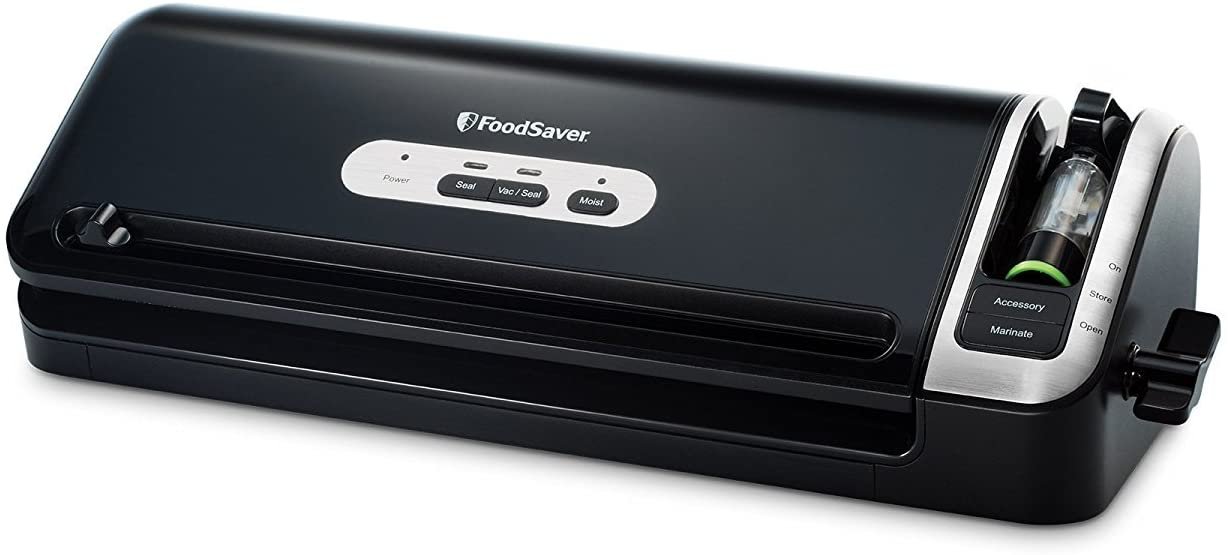 Space-Saving Design
Unlike some of the vacuum sealers on the market today – those big bulky things you see at butcher shops and in the back rooms of grocery stores – the FoodSaver FM3920 is small, compact and built to be used in most kitchens. Taking up approximately 18 by 6 inches of counter space, this appliance that just about everyone can easily fit on their counter, and store away with ease when it's not in use.
Two Step Sealing
With automated vacuum sealing, keeping all your foods fresh as can be couldn't be easier. All you have to do is turn the machine on, put the food in a bag, put the open end of the bag into the sealer, and that's it. The FoodSaver FM3920 does the rest of the work for you, and seals up the food with air-tight freshness that is superior to regular kitchen storage bags. In fact, once your food is sealed with this vacuum sealer, it will probably last 5 to 6 times longer than it would in a traditional Ziploc bag or plastic kitchen container.
Convenience
It has a number of handy convenience features that sets it aside form other food savers in this price bracket. First of all there's automatic bag detection which and a built in hand-held sealer which makes it very simple to use with Ziploc bags. There is also a quick marinator available which allows for one-touch marination but thats a separate accessory. We think it would be a killer idea to package this with the sealer as most people will use it at sometime or other.
There's an integrated roll storage and cutter so everything is kept neat and safe and the user interface is simple and clear but does everything you need with ease.
With so many features on such a reasonably priced unit, the FM3920 scores very highly in this part of the test.
FoodSaver FM3920 Vacuum Sealer Features & Details
Uses SmartSeal technology to keep foods fresh for longer periods of time.
One of the most compact sealers on the market.
Crush-free operation protects foods from being crushed during bagging.
Built in storage holds bags for less clutter in the kitchen.
Progress lights let you know when your bag is sealed tight.
Seals both wet and dry items.
Measures approximately 6 by 18-8/9 by 10-2/5 inches.
Protected by a 5-year limited warranty.
Customer Review Scores
The FoodSaver FM3920 has been reviewed by over 250 real life customers online, and has earned a superb 4.5 star rating. There were a few people who complained about having to buy the marination unit separately but, generally the feedback was overwhelmingly positive.