Foodsaver V4840 Fully Automatic Vacuum Sealing System Review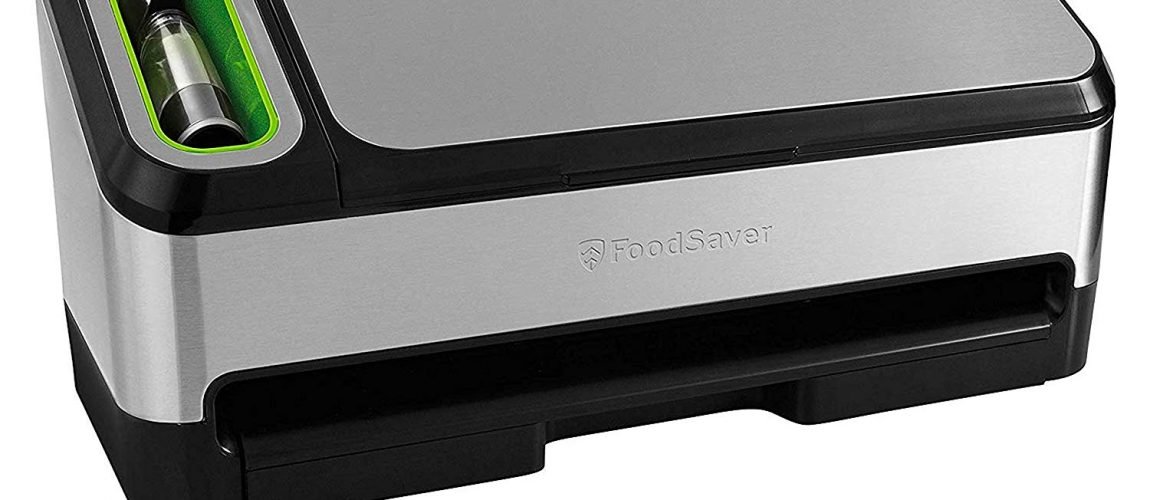 The fully-automated FoodSaver 2-in-1 vacuum sealer allows for a hands-free and easy operation. All you need to do is prepare your roll or bag with the food for sealing. The vacuum sealer does the rest. The unit includes a retractable and built-in handheld sealer to easily seal containers, canisters, and zipper bags. With this system, there are a lot more ways to contain and save your food. Aside from keeping food fresh for days, the vacuum sealer can also be utilized to marinate food quickly. This means minutes and not hours! You can prepare food that lasts for weeks or months and seal them in the food-saver bags which you then place in the freezer. When you need the food, you immerse the sealed bag in simmering water to reheat or open the package. You can also microwave the food and serve the meal.
The FoodSaver V4840 Fully Automatic Vacuum Sealing System includes a five-year limited warranty, one wine stopper, one leftover & lunch container, five quart-size zipper bags (FreshSaver), five quart-size heat-seal bags, and one roll of FoodSaver 11-inches x 10-feet heat-seal rolls.
Product Features
It seals both dry and moist food optimally
It has an efficient roll storage and bag cutter
It is dishwasher safe, and you can easily detach the drip tray drawer for washing
Its starter kit comprises of a heat seal bag, Gal and Qt zipper bags, and roll
It has handheld sealer zipper bags, containers and canisters
It marinates food in a few minutes
Functionality
This vacuum sealer boasts of its fully-automatic operation. It also automatically detects to FoodSaver bag in order to start the sealing process. The unit has a built-in roll and storage cutter & handheld sealer that is retractable. The vacuum sealer also has a very wide sealing strip.
The FoodSaver V4880 sealer has a removable pull-out drip tray drawer that is dishwasher-safe. It also has a Pulse Vac feature, which enables absolute manual air removal control. The unit's two vacuum speeds adjust automatically depending on the type of food. The two seal levels of the vacuum sealer also automatically detect dry or moist food.
The heat seal, which is airtight, removes air from bags that are specially-designed and the quick-marinate mode marinates your food in just minutes and not the usual hours or even overnight. The accessory mode for canisters and containers can tightly seal any FoodSaver container.
The vacuum sealer also has LED progress indicating lights that lets you track your progress when you seal the food in order to keep it fresh. The food contact surfaces and bags are BPA-free; thus, you would not worry about absorbing carcinogenic substances. The dimensions of the fully automatic FoodSaver V4840 sealer are 16 ¼ inches x 6 7/8 inches x 8 inches.
This appliance is versatile because it has a handheld and standard vacuum sealer. It is fast and easy to use. This is especially so because of its automatic bag detection and vacuum sealing. The handheld sealer makes it convenient when sealing the zipper bags, canisters and containers. It also excludes the need for extra attachments, and is an inclusive set.
This device lets you prepare your favorite meals in advance and all you will need to do is reheat later for serving. You can prepare veggie steamers or foods that are in season and stock them up. Additionally, you get to take advantage of sales and freeze the food in appropriate portions. The steam bags have vents to shorten the defreeze process. The bags also help organise your fridge or freezer and removes clutter.
Overall Look and Design
When you look at the FoodSaver V4840 sealer, you might think that it is a printer as the vacuum sealer also has a cartridge where you can load the heat seal rolls. While it may look heavy, the sealer actually is quite lightweight, which is not a hindrance when it comes to operating it. Its elegant design can fit in any modern kitchen and its silver-and-black color scheme can match the looks of any appliance that you have in your kitchen. The wine stopper, located on the top left side of the sealer, is a nifty feature that is very useful for keeping fresh any remaining wine.
Ease of Use
Just like any kitchen appliance, the ease-of-use feature of this vacuum sealer takes getting used do. You may encounter a trial-and-error period wherein you may not get your sealing right, but it gets better and easier as time goes on. When you get the hang of it, using the vacuum sealer is very easy. You simply place the bag in the slot and the sealer does the job for you, as compared to older models wherein you place the bag inside, shut the lid, pull levers on either side, and then use the 'push button' to start sealing. The FoodSaver V4840 Fully Automatic Vacuum Sealing System is a kitchen appliance that makes sealing your food a lot easier.
Food Saver Bags
The food-saver bags seal and refrigerate a huge number of foods. Besides meats, fish and veggies, you can stock up fruits, whole meals and left overs. The design of the vacuum packs further makes them take less space and makes stacking easy. In addition, you can label the bags indicating the content and date of storage.
Furthermore, the food-saver system is suitable for long- and short-term storage. The zipper bags easily seal and re-seal foods that you use often. Foods like lunch meats and cheeses are appropriate for this. It is easy to open and reseal the bags. There are also plastic containers that suit stews, soups and sauces.
Food-saver bags are good for neatly arranging tea, flour, sugar, cereals, pasta and nuts. They further extend the useful life of these items.
Customer Feedback
This vacuum sealing system has an average rating of a 4.6 out of a 5 on Amazon.com. This is a good rating that is an indication of the positive views that customers have about it.
In general, customers feel that this item is easy to use. The food-saver comes when it is already assembled and all you have to do is to load the bags. It is a helpful appliance that becomes indispensable with time. It saves money and keeps the food fresh. It is also flexible, and you are able to adjust the size of the bag to fit the food.
This vacuum sealer is also easy to use because it has an indicator light that tells you when the sealing is done. Additionally, it has easy instructions on how to go about the sealing.
It has a panel where you can set the requirements for different foods and it takes little effort to do this. This system helps to store food for as long as two years.
On the down side, a few customers complain that it is burdensome to get the machine to detect a bag and perform a seal. You also have to cut the big commercial rolls before storing them because they do not fit in the bags. Another challenge with this system is that it is hard to work with it without making a mess. It also wastes the bags because you have to cut longer pieces to allow for sealing.
In summary, there are more benefits associated with this system than there are negatives. It is therefore worth the purchase because there is a lot to gain from using the Food-Saver 4840 2-in-1 Vacuum Sealing System.