VacMaster VP210 Vacuum Sealer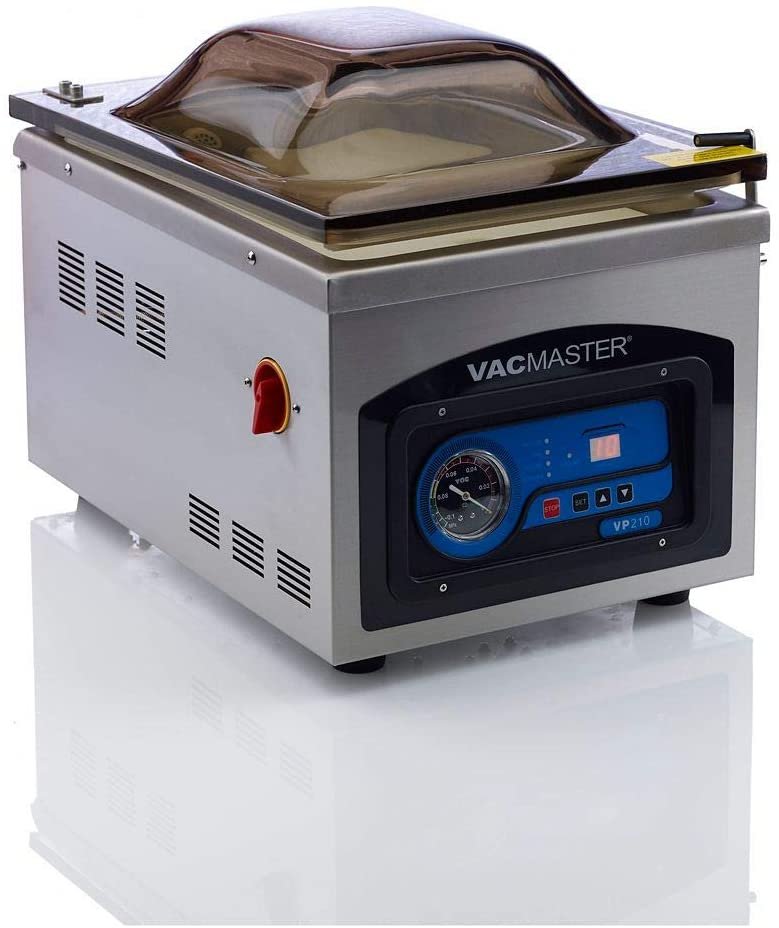 Unique Design
In recent years vacuum sealers have become very popular appliances. Most of us love being able to professionally seal our foods to keep them fresh for longer periods of time. It helps with the household bills and The problem with many of the most popular sealers, though, is that they make it very difficult to vacuum seal soups, stews, chili, meat or other foods that are either liquid or very moist. The VacMaster VP210 Vacuum Sealer, however, is designed to seal these kinds of foods – often in large quantities – without making a mess. It really is quite a bit different from many of the residential vacuum sealers on the market today.
VacMaster VP210 Chamber Vacuum Sealer
Dry maintenance-free machine pump.

Keeps food fresh up to five times longer.

A double seal on each bag ensures a complete and lasting seal.

Customizable vacuum and seal methods offer a variety of packaging options.

The VP210 can vacuum package liquids and liquid-rich foods like fresh meats, soups, marinades, and stews.
Prices pulled from the Amazon Product Advertising API on:
Product prices and availability are accurate as of the date/time indicated and are subject to change. Any price and availability information displayed on [relevant Amazon Site(s), as applicable] at the time of purchase will apply to the purchase of this product.
This vacuum sealer uses a sealing chamber, rather than simply sucking the air out of storage bags. And the sealing chamber makes a huge difference in how foods are sealed. Instead of just removing air from the bag, the VacMaster Vacuum Sealer removes air from the entire chamber. And this unique sealing method prevents spills from happening and gives you a reliable, less-messy way to store liquids and moist foods with ease.
Ideal For Freezing
If you make large batches of chilli, soup or stews, you know that without proper storage, a good deal of that food can end up going down the drain. But when you put leftovers into storage bags and use the VacMaster Portable Chamber Vacuum Sealer to vacuum seal your leftovers, you can easily store the extras for another day. And with the airtight seal that this model gives to the storage bags, those leftovers will taste fresh and delicious – even if you don't thaw them out for several weeks – or even months.
VacMaster VP210 Vacuum Sealer Features & Details
Vacuum package soups, stews, and marinades without spills and huge messes to clean up.
Keep game meat and fish fresher for up to 5 times longer than you can with conventional storage bags.
Store meats and fish scent-free
Specially designed with chamber sealing technology to make sealing moist and liquid foods easier.
Customer Reviews
The VacMaster VP215 Vacuum Sealer actually ranks as one of the highest rated vacuum sealers in stores today. With an average customer rating of 4.6 out of 5 stars, it's obvious that the people who use this vacuum sealer in their kitchens, really enjoy using it. It's not often that vacuum sealers earn such a high customer satisfaction score, so it's apparent that the folks at VacMaster have put a lot of attention into the design and construction of the VacMaster Vacuum Sealer.