Weston Pro-2300 Vacuum Sealer Review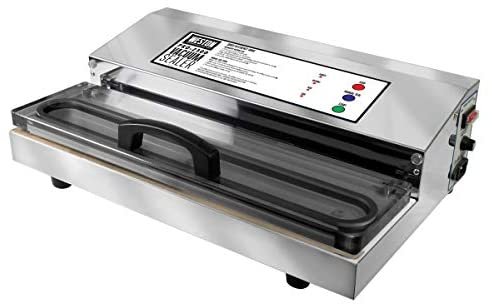 And when you seal foods with the Weston Vacuum Sealer, you can stretch your grocery budget much further, as less food gets tossed out due to spoiling.
What Makes It Good?
It takes a powerful pump to suck the air out of a storage bag effectively. And the Weston Vacuum Sealer certainly delivers when it comes to raw, vacuum producing power. This particular model is equipped with a double-piston vacuum pump and fan cooled motor. The end result is food stored in bags that are truly vacuum sealed. And when foods are vacuum sealed, they don't go bad nearly as quickly. In fact, some studies have shown vacuum sealed foods to last 5 to 6 times longer than they do in conventional food storage bags & containers.
The machine itself is a charmer. For something that is built for commercial use, it's actually quieter than most models that are made for home use. There's two mode of operations and the LED lights allow you can also monitor the stages of your vacuum seal. If you want fuss free operations opt for the Automatic Mode. Manual Mode will allow you to control the vacuum pressure especially if you're sealing something delicate.
To tell you the truth, I have been going overboard with my vacuum sealing after I got this machine. Since this vacuum sealer is one of the largest machine that has ever been made in the industry, it can pretty much seal almost anything. I since have added other things to my to-vacuum-sealed things; linen, cutlery and documents. The widest thing that I have sealed would be the sheets which after being folded would measure around 15 inches or so.
The Weston Vacuum Sealer Pro-2300 works well with the Weston-made bags, but less reliably when I use other brand-made (especially those lower end ones) bags. Still, in terms of costs, the Weston-made bags does not do much damage to your wallet as the other high end brands. Also, pre-cut bags will not cost as much as the bag rolls.
How Easy Is It To Use?
The best thing is, you don't have to be experienced with commercial food preparation tools to use the Weston Vacuum Sealer right out of the box. There are detailed instructions included with this sealer, and most customers report being able to easily seal all their foods after a quick read through the instructions. And since the Weston Vacuum Sealer has both automatic and manual sealing modes, you can even customize how certain types of foods are sealed. Professional quality food storage at home just doesn't get any easier.
Whats Bad About It?
The problem with this machine is that the pressure is strong that it tends to just suck everything. It's a problem when I want to seal fish or meat. But here's what I learn; put them in the freezer for some time before sealing it. That way, all the liquids are frozen or semi-frozen and won't be sucked into the machine
What Can It Do?
Vacuum sealer helps to keep foods fresh for up to 6 times longer than traditional storage methods.
Automatic and manual sealing settings.
The large Teflon bar can seal bags up to 15 inches in width.
LED lights and simple controls make it easy to seal foods.
Powered by a fan-cooled motor and double-piston pump.
Integrated cord storage.
Measures 22-1/2 by 12-1/4 by 6 inches
Backed by a 1-year limited warranty
Customer Reviews
With 25 customer reviews posted online, the Weston Pro-2300 has earned a very high 4.5 star rating. And more than a few of the customers who wrote reviews called this model the best vacuum sealer available today. The high customer satisfaction score this model received makes it one of the highest rated food sealers on the market today.
With such high customer review scores, and the Weston reputation for quality, we give the Weston Pro-2300 Vacuum Sealer our highest recommendation. If you want to get the most out of the foods you purchase, and prevent the unnecessary waste of expensive groceries, then you'll undoubtedly enjoy this vacuum sealer just as much as the customers who wrote such glowing reviews for it.